Canceled travel plans? Nothing is going to replace that trip to the Europe, but some of these titles might tide you over until things change.  Check out these books from all over the world, London to Timbuktu.
---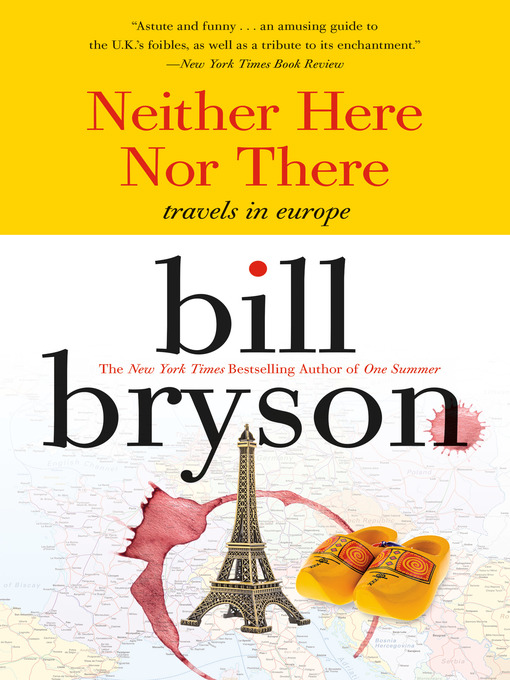 Neither Here Nor There by Bill Bryson
In the early seventies, Bill Bryson backpacked across Europe-in search of enlightenment, beer, and women. He was accompanied by an unforgettable sidekick named Stephen Katz (who will be gloriously familiar to readers of Bryson's A Walk in the Woods). Twenty years later, he decided to retrace his journey. The result is the affectionate and riotously funny Neither Here Nor There.
Many of Bryson's other books are also on Hoopla! If you like this, check out The Lost Continent or the Robert Redford movie based on A Walk in the Woods.
---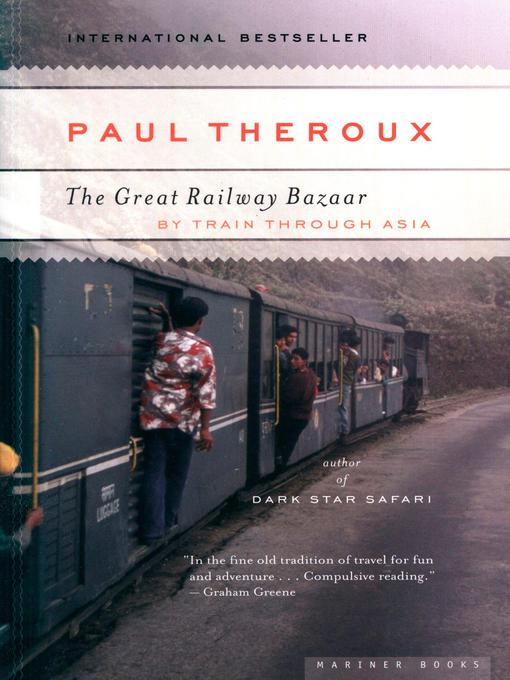 The Great Railway Bazaar by Paul Theroux
First published more than thirty years ago, Paul Theroux's strange, unique, and hugely entertaining railway odyssey has become a modern classic of travel literature. Here Theroux recounts his early adventures on an unusual grand continental tour. Asia's fabled trains — the Orient Express, the Khyber Pass Local, the Frontier Mail, the Golden Arrow to Kuala Lumpur, the Mandalay Express, the Trans-Siberian Express — are the stars of a journey that takes him on a loop eastbound from London's Victoria Station to Tokyo Central, then back from Japan on the Trans-Siberian. Brimming with Theroux's signature humor and wry observations, this engrossing chronicle is essential reading for both the ardent adventurer and the armchair traveler.
---
Walking the Nile by Levison Wood
The Nile, one of the world's great rivers, has long been an object of fascination and obsession. From Alexander the Great and Nero, to Victorian adventurers David Livingstone, John Hanning Speke, and Henry Morton Stanley, the river has seduced men and led them into wild adventures. English writer, photographer, and explorer Levison Wood is just the latest. His Walking the Nile is a captivating account of a remarkable and unparalleled Nile journey.
If you enjoy this one, check out his futher adventures in Walking the Americas and An Arabian Journey.
---
Tracks by Robyn Davidson
I arrived in the Alice at five a.m. with a dog, six dollars and a small suitcase full of inappropriate clothes. . . . There are some moments in life that are like pivots around which your existence turns. For Robyn Davidson, one of these moments comes at age twenty-seven in Alice Springs, a dodgy town at the frontier of the vast Australian desert. Davidson is intent on walking the 1,700 miles of desolate landscape between Alice Springs and the Indian Ocean, a personal pilgrimage with her dog-and four camels. Tracks is the beautifully written, compelling true story of the author's journey and the love/hate relationships she develops along the way: with the Red Centre of Australia; with aboriginal culture; with a handsome photographer; and especially with her lovable and cranky camels, Bub, Dookie, Goliath, and Zeleika.
---
Atlas Obscura by Joshua Foer, Ella Morton, Dylan Thuras
The bestselling book that celebrates wonder all around the world and in our backyards, now in an updated second edition with more than 120 brand-new destinations to explore and new city guides. This book is great for planning interesting places to see, that you may not have thought of. Check this book out for lots of inspiration!