Have you ever considered sitting down to write out your life story? Regardless of who you are or where you've been, everyone has a story to tell. From celebrities to politicians to everyday people, it seems that nearly everyone is writing a memoir. If you're interested in crafting a memoir of your own, here are some great books to help you through the process.

Storycraft: The Complete Guide to Writing Narrative Nonfiction by Jack Hart
The genre of narrative nonfiction covers much more than just memoirs, but Jack Hart's expert advice to writers in the nonfiction genre provides excellent guidelines to follow when crafting your story. Hart dispenses incredible wisdom on how to take something as straight forward as facts and turn them into a creative, narrative endeavor. Not all narrative nonfiction books are memoirs, but all memoirs are narrative nonfiction.
Old Friend from Far Away: The Practice of Writing Memoir by Natalie Goldberg
Natalie Goldberg insists that before we learn how to tell our story, we must first learn how to remember our story. Goldberg reflects on the memoir itself, and on the many ways we use it as a meditative means of working through our own feelings of heartbreak, happiness, and love. Writing a memoir is about more than just finding your story; it's about finding your voice.
The Art of Memoir by Mary Karr
Author of one of the most successful memoirs of the past two decades, Mary Karr uses her expert knowledge and over thirty years of experience in the memoir genre to provide an equal mix of advice, anecdotes, and humor. Widely considered to be the catalyst for the current renaissance of the genre, Karr's The Liars' Club paved the way for many modern memoirs. If there were ever an expert to learn about the art of memoir writing from, it would be Mary Karr.
Handling the Truth: On the Writing of Memoir by Beth Kephart
When writing a memoir, what should we include? What should we leave out? Is it ever okay to embellish? And how can we fact check our own memories? These are only some of the questions Beth Kephart considers in her bestselling book on memoir writing. Author of five memoirs, she certainly has the qualifications to tackle these topics, and a wealth of experience to learn from.
Why We Write About Ourselves: Twenty Memoirists on Why They Expose Themselves (and Others) in the Name of Literature edited by Meredith Maran
An important question to ask yourself when crafting a memoir is why you are choosing to share a particular piece of yourself through writing. Luckily, Meredith Maran has compiled essays from twenty famous memoirists on their own personal reasons for choosing to tell their own stories, and why you should share yours as well.
Writing About Your Life: A Journey into the Past by William Zinsser
Using his own life as an example, William Zinsser takes readers through the many ways to present your past in a memoir. Widely known for his book on nonfiction, On Writing Well, Zinsser takes his past advice and experiences and adapts them specifically for the memoirist. His advice on choosing between anecdotes and writing with your heart is crucial for any prospective memoir author.
Your Life is a Book: How to Craft & Publish Your Memoir by Brenda Peterson and Sarah Jane Freymann
Most of the titles on this list focus on the art and style of memoirs, with only a few spending a good amount of time on publishing. Luckily, Brenda Peterson and Sarah Jane Freymann, two publishing professionals, have written this guide to writing and presenting a memoir that publishers will want to print. They prep the reader not only for the writing process, but for the transformative act of publishing.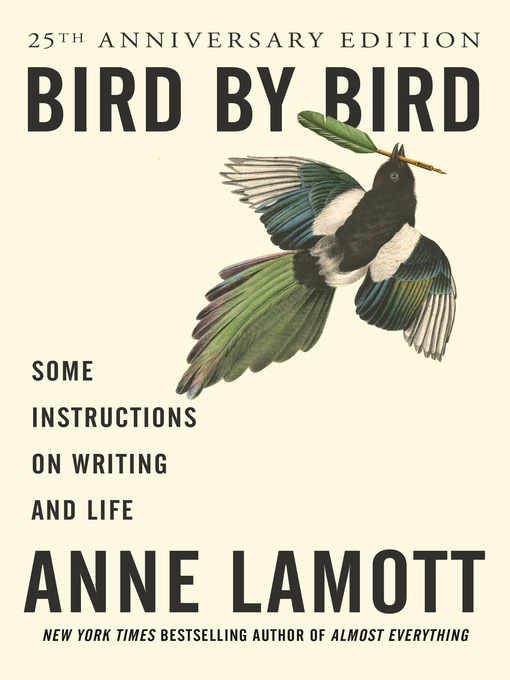 Bird by Bird: Some Instructions on Writing and Life by Anne Lamott
Anne Lamott's bestselling book is a must-read for any prospective writer, regardless of experience level or subject. Anne Lamott doesn't just know what it's like to be a writer; she knows the anxieties, self-doubt, and frustrations that come with it. Her book goes through all steps of writing a book, from writers block, to bad first drafts, all the way to publishing. When you finish this book, you will feel understood, empowered, and ready to take on any writing project that comes your way.