When the storytelling of a fiction novel is combined with true tales – you get narrative nonfiction! Try these titles to get a taste of this compelling genre.
---
Fuzz : when nature breaks the law
by Mary Roach
Join "America's funniest science writer", Mary Roach, on an irresistible investigation into the unpredictable world where wildlife and humans meet. What's to be done about a jaywalking moose? A bear caught breaking and entering? A murderous tree? Three hundred years ago, animals that broke the law would be assigned legal representation and put on trial. These days, as Roach discovers, the answers are best found not in jurisprudence but in science: the curious science of human-wildlife conflict, a discipline at the crossroads of human behavior and wildlife biology. Roach tags along with animal-attack forensics investigators, human-elephant conflict specialists, bear managers, and "danger tree" faller blasters, revealing as much about humanity as about nature's lawbreakers. When it comes to "problem" wildlife, she finds, humans are more often the problem–and the solution. Fascinating, witty, and humane, Fuzz offers hope for compassionate coexistence in our ever-expanding human habitat.
Empire of pain : the secret history of the Sackler dynasty
by Patrick Radden Keefe
The award-winning author of Say Nothing presents a narrative account of how a prominent wealthy family sponsored the creation and marketing of one of the most commonly prescribed and addictive painkillers of the opioid crisis.
The body : a guide for occupants
by Bill Bryson
Bill Bryson, bestselling author of A Short History of Nearly Everything, takes us on a head-to-toe tour of the marvel that is the human body. As compulsively readable as it is comprehensive, this is Bryson at his very best, a must-read owner's manual for everybody. Bill Bryson once again proves himself to be an incomparable companion as he guides us through the human body–how it functions, its remarkable ability to heal itself, and (unfortunately) the ways it can fail. Full of extraordinary facts (your body made a million red blood cells since you started reading this) and irresistible Bryson-esque anecdotes, The Body will lead you to a deeper understanding of the miracle that is life in general and you in particular. As Bill Bryson writes, "We pass our existence within this wobble of flesh and yet take it almost entirely for granted." The Body will cure that indifference with generous doses of wondrous, compulsively readable facts and information.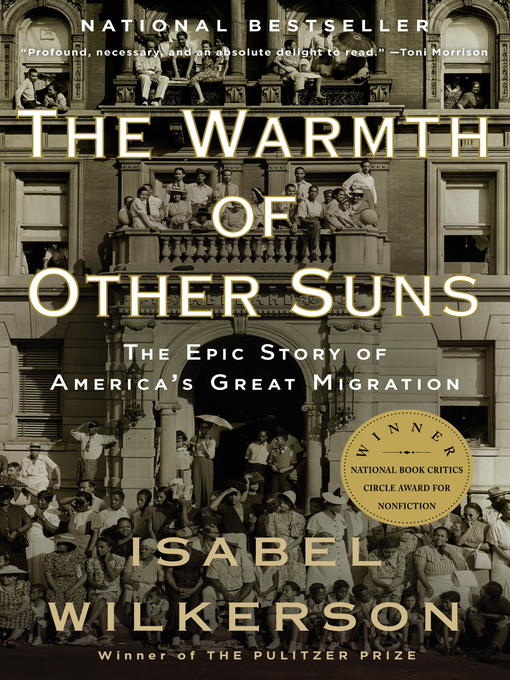 The warmth of other suns : the epic story of America's great migration
by Isabel Wilkerson
In an epic history covering the period from the end of World War I through the 1970s, a Pulitzer Prize winner chronicles the decades-long migration of African Americans from the South to the North and West through the stories of three individuals and their families. This best-seller is also a National Book Critics Circle Award finalist.
The splendid and the vile
by Erik Larson
The best-selling author of Dead Wake draws on personal diaries, archival documents and declassified intelligence in a portrait of Winston Churchill that explores his day-to-day experiences during the Blitz and his role in uniting England.