Millions of Americans are affected by mental health issues each year, though widespread stigmas and misunderstandings about mental illness remain. Mental health issues cover a range of conditions and present a variety of challenges for those affected by it and their loved ones. The following non-fiction titles highlight different forms of mental traumas – from depression to PTSD to dementia – to offer personal perspectives about mental health issues and remind those struggling with mental illness that they are not alone.
---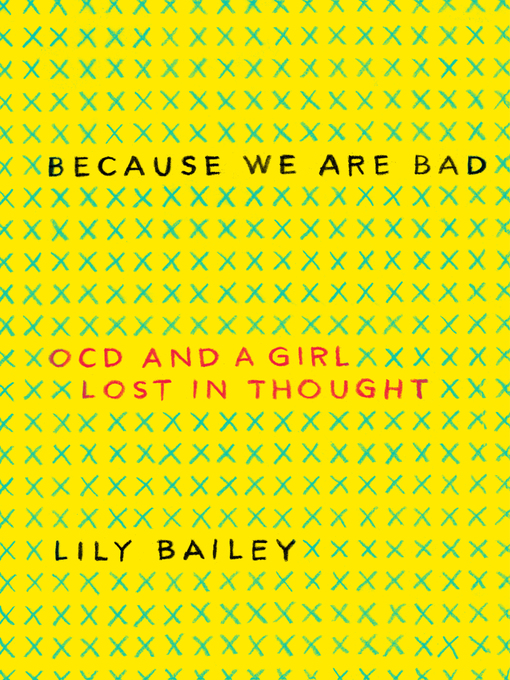 Because We Are Bad: OCD and a Girl Lost in Thought by Lily Bailey
By the age of thirteen, Lily Bailey was convinced she was bad. She had killed someone with a thought, spread untold disease, and ogled the bodies of other children. Only by performing an exhausting series of secret routines could she make up for what she'd done. But no matter how intricate or repetitive, no act of penance was ever enough. Beautifully written and astonishingly intimate, Because We Are Bad recounts a childhood consumed by obsessive compulsive disorder.
---
All the Things We Never Knew: Chasing the Chaos of Mental Illness by Sheila Hamilton
Sheila Hamilton missed the signs as her husband David's mental illness unfolded before her. By the time she had pieced together the puzzle, it was too late. Her once brilliant and passionate partner was dead within six weeks of a diagnosis of bipolar disorder, leaving his wife and nine-year-old daughter without so much as a note to explain his actions. It details their unsettling spiral from ordinary life into the world of mental illness, examines the fragile line between reality and madness, and reveals the true power of love and forgiveness.
---
The Deepest Well: Healing the Long-Term Effects of Childhood Adversity by Nadine Burke Harris, M.D.
Dr. Nadine Burke Harris was already known as a crusading physician delivering targeted care to vulnerable children. But it was Diego—a boy who had stopped growing after a sexual assault—who galvanized her journey to uncover the connections between toxic stress and lifelong illnesses. Adverse childhood experiences like abuse, neglect, parental addiction, mental illness, and divorce change our biological systems, and lasts a lifetime. The fascinating scientific insight and innovative health interventions in The Deepest Well represent vitally important hope for preventing lifelong illness for those we love and for generations to come.
---
In the Jaws of Black Dogs: a Memoir of Depression by John Bentley Mays
Weaving intimate recollections with excerpts from the diaries he kept for thirty years, Mays illuminates the struggle that leads to breakdown and the uneasy truce achieved through psychotherapy. Along the way, he offers provocative commentary on the allure of cure, the cultural scripts of normality, and the distorting mirror of clinical language. A literary tour de force that began with an award winning essay, In the Jaws of the Black Dogs is not an objective analysis composed from the safety of hindsight. It is a writer's attempt to evoke the silent and distorting malignancy–as well as the moments of reprieve–of the only life he has ever known.
---
The Evil Hours: A Biography of Post Traumatic Stress Disorder by David J. Morris
Just as polio loomed over the 1950s and AIDS stalked the 1980s and 1990s, post-traumatic stress disorder haunts us in the early years of the twenty-first century. Over a decade into the United States' "global war on terror," PTSD afflicts as many as 30 percent of the conflict's veterans. But the disorder's reach extends far beyond the armed forces. In total, some twenty-seven million Americans are believed to be PTSD survivors. Yet to many of us, the disorder remains shrouded in mystery, secrecy, and shame. Morris crafts a moving work that will speak not only to those with the condition and to their loved ones but also to all of us struggling to make sense of an anxious and uncertain time.
---
Demon Camp: The Strange and Terrible Saga of a Soldier's Return from War by Jennifer Percy
In 2005 a Chinook helicopter carrying sixteen Special Ops soldiers crashed during a rescue mission in Afghanistan, killing everyone on board. In that instant, machine gunner Caleb Daniels lost his best friend, Kip, and seven members of his unit. Back in the US, Caleb begins to see them everywhere—dead Kip, with his Alice in Wonderland tattoos, and the rest of them, their burned bodies always watching him. But there is something else haunting Caleb, too—a presence he calls the Black Thing, or the Destroyer, a paralyzing horror that Caleb comes to believe is a demon. Alone with these apparitions, Caleb considers killing himself. There is an epidemic of suicide among veterans of Iraq and Afghanistan, men and women with post-traumatic stress disorder who cannot cope with ordinary life in the aftermath of explosions and carnage. Author Jen Percy finds herself drawn to their stories.
---
Memory's Last Breath: Field Notes on My Dementia by Gerda Saunders
Based on the "field notes" she keeps in her journal, Memory's Last Breath is Gerda Saunders' astonishing window into a life distorted by dementia. She writes about shopping trips cut short by unintentional shoplifting, car journeys derailed when she loses her bearings, and the embarrassment of forgetting what she has just said to a room of colleagues. Coping with the complications of losing short-term memory, Saunders, a former university professor, nonetheless embarks on a personal investigation of the brain and its mysteries, examining science and literature, and immersing herself in vivid memories of her childhood in South Africa.
---
If you or someone you know are struggling with a mental illness, the National Alliance on Mental Illness offers resources for support and education to tackle tough challenges that you, your family or friends are facing.