Don't be blue this Christmas! Escape from the holiday madness (or general craziness of life) with these festive films that are guaranteed to have a happy ending. Embrace the spirit of Christmas as you watch characters bake cookies, have snowball fights, attend tree lighting ceremonies, and of course, fall in love.
---
DVDs from Our Collection
A Christmas Love Story
A youth choir director who needs to write a big song for a Christmas Eve show is distracted from her task when a boy with a golden voice joins her choir, which comes as a surprise to his widowed father. Starring Kristin Chenoweth and Scott Wolf. (2020)
A Heavenly Christmas
Eve Morgan, a workaholic, finds herself tethered to her guardian angel, Pearl, as she learns to become a Christmas angel in Heaven. Despite being the worst recruit in the history of Christmas, Eve is assigned the difficult task of helping a struggling singer use his musical gifts to heal old family wounds. Starring Kristin Davis, Eric McCormack, and Shirley MacLaine. (2017)
Operation Christmas
As her new romance blossoms, a single mother is dismayed when her boyfriend, a military sergeant, is deployed right before Christmas. Determined to not let it ruin the holidays for her and her children they decide to give back to the struggling military families on his base and, as their efforts go viral, they are rewarded in ways they never imagined. (2017) 
Mr. Miracle
Heaven and earth collide when angel in training Harry Mills, also known as Mr. Miracle, is sent down to a community college during Christmas for his first assignment: to help an insecure student realize her life purpose. As Harry is schooled in life lessons, he learns being human isn't as easy as he thought. (2017)
 The Holiday
An Englishwoman and L.A. woman meet on-line at a website devoted to helping people exchange houses for vacations. Each agrees to spend the Christmas holiday at the other's home. While each suffers from a minor case of culture shock, both women also end up becoming involved with a man. They must decide what to do with these new relationships as their pre-arranged house switch is scheduled to last less than two weeks. Starring Cameron Diaz, Kate Winslet, Jude Law, and Jack Black. (2007)
---
Hoopla for the Holidays
These titles are available at any time for streaming on hoopla! (Find out how to get started with hoopla here.)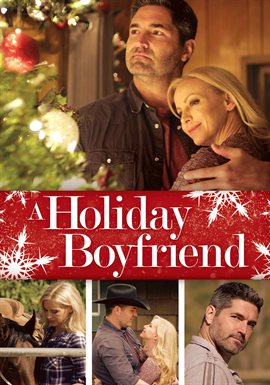 A Holiday Boyfriend (2019)
What's worse than getting dumped? When it happens right before the holidays, of course! But Katie is determined not to let it stop her, so she gets on a dating app. All  she wants for Christmas is a good guy, but it may not be that easy. Featuring Olivia Dunkley and Matt Merchant.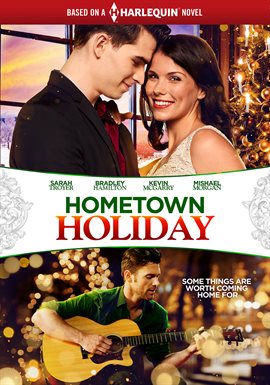 Hometown Holiday (2018)
Krista is starting this New Year with a new business and a resolution to be more selective with who she dates. When Krista meets Ryan Rourke, an entertainment lawyer from LA, the two really hit it off. Ryan is in her hometown to sign a local rancher turned viral singing sensation as his new client. Now with Krista also in Rust Creek, maybe there is more of a reason to stick around. Both are holding onto things from their past and are forced to make some decisions if they truly want to be together. Starring Sarah Troyer and Bradley Hamilton.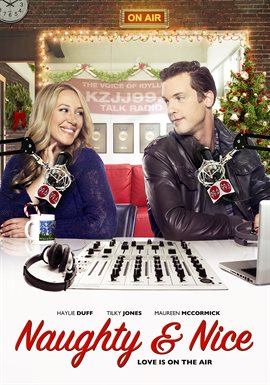 Naughty & Nice (2015)
When a cynical Los Angeles DJ is exiled to a quaint mountain town for the holiday season, the small-town charm and holiday cheer-not to mention his pretty new co-host-begin to melt his icy demeanor. The two have an entertaining repartee on-air that enthralls the town, and eventually leads to sparks between them that they can't deny. Featuring Haylie Duff and Tilky Jones.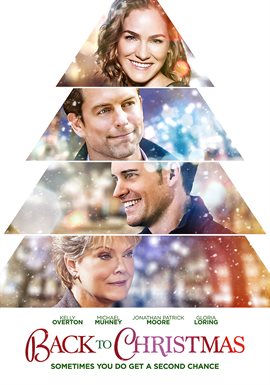 Back To Christmas (2015)
Trying to skip out on Christmas, Ali turns to work during the holidays. Upon meeting a kind stranger at a diner who encourages her to believe in the magic of the holidays, Ali admits that she would redo last Christmas if she could. The next morning, she wakes to realize that her second chance has come true-but changing history is no easy task, and Ali has her hands full trying to navigate every decision to make sure that this time around she ends up with the love of her life. Starring Kelly Overton and Michael Muhney.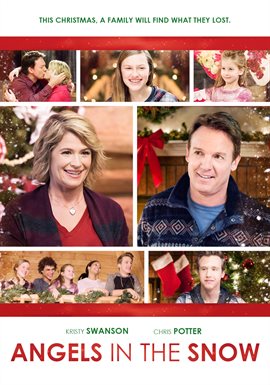 Angels in the Snow (2015)
The dysfunctional Montgomery family go to their cabin for Christmas where a blizzard traps them inside. When another family arrives needing shelter, they are welcomed inside and remind the Montgomery family how to love each other. Starring Kristy Swanson and Chris Potter.