Books about Books!  What could be more fun!  Here's a sampling of titles — mysteries, fiction, and memoirs — that highlight the all-encompassing world of books.
–Lynne @ SPL
---
The Last Chance Library – Freya Sampson
Lonely librarian June Jones has never left the sleepy English village where she grew up. Shy and reclusive, the thirty-year-old would rather spend her time buried in books than venture out into the world. But when her library is threatened with closure, June is forced to emerge from behind the shelves to save the heart of her community and the place that holds the dearest memories of her mother.
…"a sweet testament to the power of reading, community, and the library." — Booklist
---
The Reading List – Sara Nisha Adams  
Aleisha is a bright but anxious teenager working at the local library when she discovers a crumpled-up piece of paper in the back of To Kill a Mockingbird. It's a list of novels that she's never heard of before. Intrigued, she impulsively decides to read every book on the list, one after the other. As each story gives up its magic, the books transport Aleisha from the painful realities she's facing at home.
"Readers will be charmed and touched." – Publishers Weekly   
---
Mr. Penumbra's 24-Hour Bookstore – Robin Sloan
The Great Recession has shuffled Clay Jannon away from life as a San Francisco web-design drone and into the aisles of Mr. Penumbra's 24-Hour Bookstore. But after a few days on the job, Clay discovers that the store is more curious than either its name or its gnomic owner might suggest. The customers are few, and they never seem to buy anything–instead, they "check out" large, obscure volumes from strange corners of the store.
---
By Its Cover – Donna Leon
One afternoon, Commissario Guido Brunetti gets a frantic call from the director of a prestigious Venetian library. Someone has stolen pages out of several rare books. After a round of questioning, the case seems clear: the culprit must be the man who requested the volumes, an American professor from a Kansas university. The only problem–the man fled the library earlier that day, and after checking his credentials, the American professor doesn't exist.
---
The Book Woman of Troublesome Creek – Kim Michele Richardson
This gem of a historical from Richardson features an indomitable heroine navigating a community steeped in racial intolerance. In 1936, 19-year-old Cussy Mary Carter works for the New Deal–funded Pack Horse Library Project, delivering reading material to the rural people of Kentucky. It's a way of honoring her dead mother, who loved books, and it almost makes her forget the fact that her skin is blue, a family trait that sets her apart from the white community.
---
Booked to Die – John Dunning
Denver cop Cliff Janeway probably knows as much about books as he does about homicide.  His living room resembles an adjunct to the public library.  But when local book scout Bobby Westfall is murdered, Janeway is sure he knows who did it.  His detective talents are as important as his knowledge of books as he follows the twists and turns of this great mystery.  There are only four books in the Cliff Janeway series, but you're sure to want to read them all.  Great stuff.
---
Tolstoy and the Purple Chair: My Year of Magical Reading – Nina Sankovitch
Grief-stricken by the loss of her sister, a mother of four spends one year savoring a great book every day, from Thomas Pynchon to Nora Ephron and beyond. In the tradition of Gretchen Rubin's The Happiness Project and Joan Didion's A Year of Magical Thinking, the author's literary-minded memoir is a chronicle of loss, hope, and redemption. Nina turns to reading as therapy and through her journey illuminates the power of books to help us reclaim our lives.  Fascinating.
---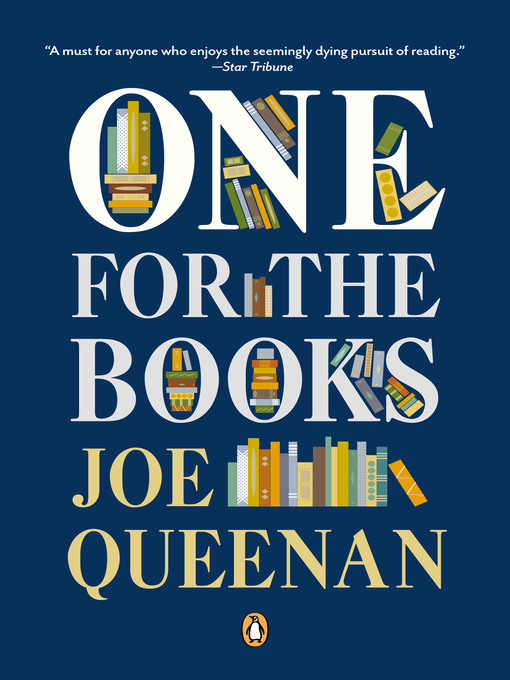 One for the Books – Joe Queenan
If you love books and reading, this is the book to check out.  At times, laugh out-loud funny as well as mordantly insightful, Queenan takes on all comers in his defense of reading and books.   He's never one to shy away from expressing his opinions – whether it's about libraries, bookstores, authors or that goliath, Middlemarch.  Along the way we learn about his life in books and where those books have led him in life.  I enjoyed it!