SPL staff member, Blair, always has recommendations! Whether for books or movies – she's either read it, seen it, or noted feedback from other library book readers. We're sharing these collected lists in a series we're calling "Blair Recommends." Next up: Fiction!
---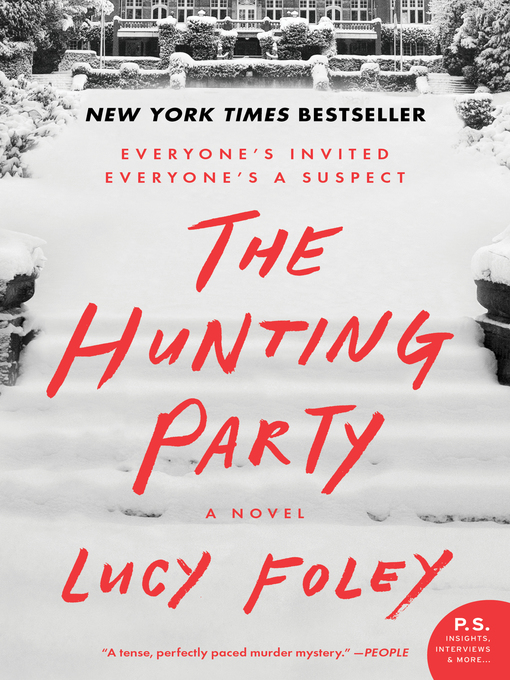 The Hunting Party by Lucy Foley
During the languid days of the Christmas break, a group of thirtysomething friends from Oxford meets to welcome in the New Year together, a tradition they began as students ten years ago. For this vacation, they've chosen an idyllic and isolated estate in the Scottish Highlands—the perfect place to get away and unwind by themselves. The trip began innocently enough: admiring the stunning if foreboding scenery, champagne in front of a crackling fire, and reminiscences about the past. But after a decade, the weight of secret resentments has grown too heavy for the group's tenuous nostalgia to bear. Amid the boisterous revelry of New Year's Eve, the cord holding them together snaps. Now, on New Year's Day, one of them is dead . . . and another of them did it.
---
The Paris Hours by Alex George
Told over the course of a single day in 1927, their stories emerge: Camille was the maid of Marcel Proust, and she has a secret: when she was asked to burn her employer's notebooks, she saved one for herself. Now she is desperate to find it before her betrayal is revealed. Souren, an Armenian refugee, performs puppet shows for children that are nothing like the fairy tales they expect. Lovesick artist Guillaume is down on his luck and running from a debt he cannot repay―but when Gertrude Stein walks into his studio, he wonders if this is the day everything could change. And Jean-Paul is a journalist who tells other people's stories, because his own is too painful to tell. When the quartet's paths finally cross in an unforgettable climax, each discovers if they will find what they are looking for.
---
A Lily of the Field by John Lawton
Spanning the tumultuous years 1934 to 1948, John Lawton's A Lily of the Field is a brilliant historical thriller from a master of the form. The book follows two characters—Méret Voytek, a talented young cellist living in Vienna, and Dr. Karel Szabo, a Hungarian physicist interned in a camp on the Isle of Man. In his seventh Inspector Troy novel, Lawton moves seamlessly from Vienna and Auschwitz to the deserts of New Mexico and the rubble-strewn streets of postwar London, following the fascinating parallels of the physicist Szabo and musician Voytek as fate takes each far from home and across the untraditional battlefields of a destructive war to an unexpected intersection of their lives.
---
The Girl from Widow Hills by Megan Miranda
Arden Maynor was just a child when she was swept away while sleepwalking during a terrifying rainstorm and went missing for days. Strangers and friends, neighbors and rescue workers, set up search parties and held vigils, praying for her safe return. Against all odds, she was found, alive, clinging to a storm drain. The girl from Widow Hills was a living miracle. Arden's mother wrote a book. Fame followed. Fans and fan letters, creeps, and stalkers. And every year, the anniversary. It all became too much. As soon as she was old enough, Arden changed her name and disappeared from the public eye.
---
The Book Woman of Troublesome Creek by Kim Michele Richardson
Inspired by the true blue-skinned people of Kentucky and the brave and dedicated Kentucky Pack Horse library service of the 1930s: The hardscrabble folks of Troublesome Creek have to scrap for everything—everything except books, that is. Thanks to Roosevelt's Kentucky Pack Horse Library Project, Troublesome's got its very own traveling librarian, Cussy Mary Carter. Cussy's not only a book woman, however, she's also the last of her kind, her skin a shade of blue unlike most anyone else. Not everyone is keen on Cussy's family or the Library Project, and a Blue is often blamed for any whiff of trouble. If Cussy wants to bring the joy of books to the hill folks, she's going to have to confront prejudice as old as the Appalachias and suspicion as deep as the holler.
---
The Things We Cannot Say by Kelly Rimmer
Since she was nine years old, Alina Dziak knew she would marry her best friend, Tomasz. Now fifteen and engaged, Alina is unconcerned by reports of Nazi soldiers at the Polish border, believing her neighbors that they pose no real threat, and dreams instead of the day Tomasz returns from college in Warsaw so they can be married. In 1942, Europe remains in the relentless grip of war. Just beyond the tents of the Russian refugee camp she calls home, a young woman speaks her wedding vows. It's a decision that will alter her destiny…and it's a lie that will remain buried until the next century.
---
Eight Perfect Murders by Peter Swanson
Years ago, bookseller and murder mystery aficionado Malcolm Kershaw compiled a list of the genre's most unsolvable murders which he titled "Eight Perfect Murders." Then an FBI agent comes knocking on his door one snowy day in February. She's looking for information about a series of unsolved murders that look eerily similar to the killings on Mal's old list. And the FBI agent isn't the only one interested in this bookseller. The killer is out there, watching his every move.